When I was going to college and living with roommates one of them introduced me to this easy, quick recipe for Asian Noodles with Vegetables. On our small budgets there was always plenty of ramen noodles in the house. So this is a healthier version for when we were able to splurge on real vegetables like bok choy and carrots and to use some of our expensive (to us!) dark sesame oil.
What You Will Need:
1 egg, slightly beaten
9 oz baked ramen noodles
1 tbsp canola oil
1 tbsp minced garlic
4 cups of thinly sliced bok choy stems and leaves
1 medium carrot, shredded
1 tbsp of soy sauce (reduced sodium if you have it)
1 tsp sugar (use it, it makes a difference!)
1 tsp dark sesame oil
Coat a non-stick skillet with cooking spray, warm over medium heat. Then add the egg and turn the pan so that the egg swirls all around the bottom, cook for about a minute until it sets. Then turn it over and cook that side until it is set. Remove the egg from the pan and cool it slightly, then roll it up tight and cut in to strips, set aside.
Cook the noodles in a pot of boiling water for 3 minutes. (the seasoning packet inside you can save for later or throw out). Drain, rinse with cold water, and drain again and set aside.
Heat the canola oil in large non-stick skillet over medium heat. Add garlic and cook a minute or so and then add the bok choy and carrot. Stir fry until the bok choy begins to wilt, which should be 1-2 minutes.
Then add the noodles, soy sauce, sugar and sesame oil. Cook until the noodles are heated through, then add the egg strips and toss. Voila, yummy Asian Noodle recipe with veggies for lunch or dinner!
Tasty Crispy Ramen Noodles Recipe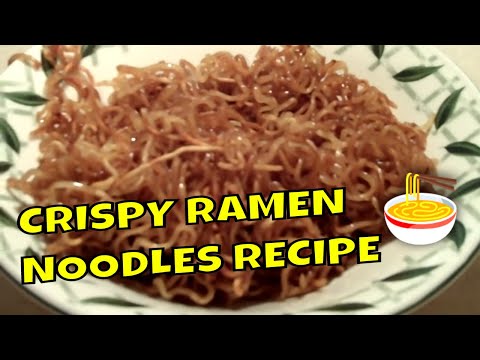 More Articles