Growing Blackberries
Rich in antioxidants, blackberries offer a quick, simple way to help boost your nutrition. Growing blackberries is easy if you have a little space in your yard. Expect the blackberry vines to grow rapidly and spread, so plan for a few vines to take up a six-foot square after a couple of years.Health Benefits to Blackberries
Blackberries contain phenolic compounds that help prevent inflammation. They also are rich in fiber, gallic acid, and a number of antioxidants that help with cell tissue repair and growth. Vitamin C, helpful in the production of red blood cells, is also found in blackberries. Some studies suggest that the compounds in blackberries, similar to those found in red wine, can help with Alzheimer's, arthritis, heart health, and certain cancers. A handful of blackberries is an easy snack that truly benefits the body.
Planting and Maintaining Blackberry Vines
Growing blackberries can be as easy as transplanting a wild blackberry vine growing under your trees, or by purchasing vines from a local nursery. As long as you keep the vine watered while the roots set in, it's very difficult to kill these vines. If you can find wild blackberry vines, they're best because they're already acclimated to your specific climate.
Dig a hole that is at twice as wide as the roots. Loosen the soil around the bottom of the hole so that the roots have less work to do when settling in. Make sure you water the vine right after planting.
The first year, it's unlikely you'll have any fruit on the primocanes (first-year branches). Do not prune those branches in the fall. During the second year, you will see fruit on the floricanes (second-year, fruit producing branches). Pruning the ends of the blackberry canes once they are four feet long helps the plant focus on fruit production. At the end of the season, prune the floricanes. Pruning also helps prevent your blackberry patch from becoming tangled and hard to access.
Tips for Harvesting Crops
Birds, skunks, and bears all enjoy berries and may beat you to the ripened berries. Placing nets over the ripening fruit can help. In full sun, the berries ripen quickly, so be prepared to check your vines daily.
Many blackberry vines have thorns. Wear a thick glove on one hand to hold a vine while picking fruit with your other hand. If you wear gloves on both hands, you're likely to crush the fruit while removing it from the vine.
Quick Blackberry Recipes
Use blackberries in the same way you'd use strawberries. Enjoy a slice of angel food cake with a handful of blackberries, and a dollop of whipped cream. Puree them into smoothies with some frozen vanilla yogurt for a healthy pick-me-up.
One of the best reasons for growing blackberries is to make homemade jam. It's very easy to make jam at home. You'll find blackberry recipes online for seedless jam or preserves. Recipes that use pectin will set quickly and usually are error-free.
Planting Blackberries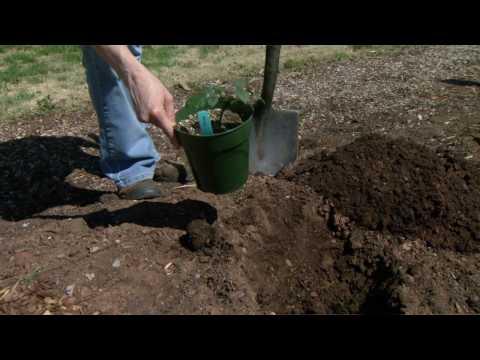 More Articles