Growing Mint at Home
Mint is one of the easiest herbs to grow. Head to your favorite greenhouse and purchase potted plants. Don't be surprised by the huge variety. When growing mint, there are dozens of types from which you can choose.
Popular Types of Mint
Catmint is a must for any cat owner. Catmint, more commonly known as catnip, helps ease a pet's stress, and most cats love eating or rolling in fresh catmint leaves for fun. Catnip also helps relieve anxiety in people. If grown outside, put up motion-activated sprinklers to keep neighborhood cats from devouring the growing mint plants before they have a chance to take root.
Chocolate mint leaves smell like Andes mints. When eaten, there is a distinct chocolate-mint flavor that's perfect for teas or paired with fresh berries in salads and desserts.
Fruit mints are increasingly popular with herb gardeners. There is the distinct minty taste and aroma, but there's also a hint of fruit. Varieties include apple, grapefruit, lemon, orange, and pineapple. These fruity mints are perfect for teas and cold drinks, such as lemonade or Mojitos. Many people add fruit mints to salads, pilafs, and jellies.
Try this mojito recipe (source: wikipedia)
- 8 parts of white rum
- 6 parts of fresh lime juice
- 3 leaves of mint
- 2 tsp of sugar
- soda water
In a tall Collins glass filled with ice take the mint sprigs and muddle with the sugar and lime juice. Add the rum and top it off with soda water. Garnishe with sprig of mint leaves. Served with a straw.
Peppermint and spearmint are the most common mints found in greenhouses. These plants prefer shady locations with moist soil, so if you have a pond or river in your yard, you'll have no problem growing them. Once harvested, use peppermint and spearmint for teas, jellies, meat dishes, potpourri, or homemade soaps, creams, and facials.
Caring for Your Mint Plants
Mints are perennials, meaning they come back year after year. They do spread like mad if they have the room. Their tendency to spread makes it important to plant them in an area where you don't mind them taking over. If this is a problem, consider growing mint as a patio plant where the roots are contained to a pot, or be prepared to dig up some of your mint plant to move to other gardens every year.
Mint needs plenty of water. Make sure you're watering the plants daily if there's a lack of sufficient rainfall. Putting a thin layer of mulch over the garden helps keep the soil from drying out during summer's heat.
As your mint plant grows, it develops flowers. Trim them to force more mint leaves to grow and create bushier plants. However, honey bees and hummingbirds love mint flowers, so leaving the flowers in place does provide beneficial nectar to them.
Harvesting and Storing Your Mint
In the middle of summer, cut down the tops of your mint plants. Tie the ends of the stalk with a piece of twine or dental floss and hang upside down for a day or two to dry. If you have a food dehydrator, follow its instructions to air dry your mint.
Once the leaves are dry, remove them from the stalks and place into freezer bags or airtight containers. Stored in the freezer or a cool, dark cupboard, mint keeps for up to two years.
How To Grow Mint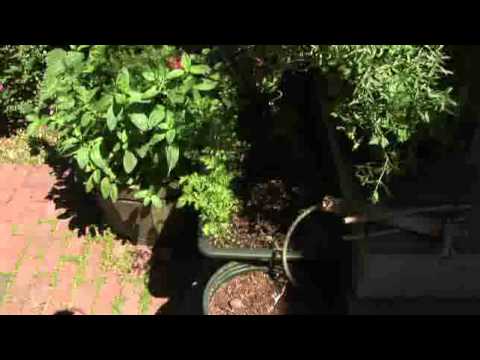 More Articles