How To Make A Rain Barrel
Green energy and frugal spending have become major factors in our society today. With the poor economy, everybody is looking for ways to save money. One way to save money over time, as well as to conserve water, is to make a rain barrel. The water collected in rain barrels can be used in many different ways, but one way to use it is to water your garden. Your garden will also help you save money over time by growing your own food, and using the collected water in the rain barrels, you are living green and demonstrating frugal spending.
Following is the barrel in the picture.  Not the best rated rain barrel, but it has a decent look and is relatively inexpensive.
If you decide that making a rain barrel isn't worth your time.  Check out this review on inexpensive rain barrels.
Whether you make a rain barrel or buy one, there are many benefits:
Help protect the foundation of your home by capturing the water and distributing it to needed areas.
Water conservation is necessary in many areas of the country. Feel good about doing your part.
Lower your water and sewage bill. Often sewage is tied directly to how many gallons of water you use.
Use chlorine free water on your lawn and garden.
A green investment that will definitely pay for itself over time (and probably a lot less time than you would think).
Rain barrels are relatively inexpensive as you can see to the right. That rain barrel is $119.00 and has great reviews. If you decide to purchase it, here are some things to watch out for. These issues likely apply to other rain barrels as well.
When full, some owners have had the rain barrel swell and push away from the house. When setting up, it might be a good idea to leave a gap.
The stand that you can buy with the rain barrel has been reported to be of low quality and collapse under the weight of a full 50 gallons of water. Best just to put the rain barrel on bricks.
The spigot at the bottom requires plumbers Teflon tape to make a good seal. Another person used silicon sealant to get the job done, but either are reported to work well.
The barrel will likely fill up after two heavy rains. Some owners are reporting that their rain barrel filled up after a single rain!
So, how to make a rain barrel?
Tools and parts needed to make a rain barrel
Tools you will need:
15/16 inch spade bit for the spigot and overflow valve
electric drill
jigsaw to cut an opening for the spout
two adjustable wrenches to tighten down the lock-nuts
box/utility knife (not necessary, but could be useful to clean up debris around the drilled holes and cleanup excess dried sealant)
As you can see in the diagram on the right, there are three main pieces to the rain barrel, take a look at those, and then these parts should make sense.
Starting from the bottom of the diagram, you will need the parts for the spigot:
3/4" hose spigot
3/4" galvanized lock-nut (goes inside the barrel and holds the spigot in place)
3/4" rubber washer (goes on the inside of the barrel)
silicon sealant (goes on inside and outside, used in a addition to washer to make sure the seal is tight and stays that way)
Parts for the overflow valve as seen in the diagram (top right of the rain barrel):
3/4" overflow valve (has male threads on both ends)
3/4" lock-nut
3/4" rubber washer
silicon sealant
Finally you will need:
the barrel (more on this later)
mesh screen for the top of the barrel to keep bugs out
bricks to keep the barrel level
gutter elbow and extensions to route the gutter to the barrel
That is pretty much it. Your specific needs might vary some. Most of the work is intuitive to an experienced do it yourself inclined person, but the following describes the steps involved in making a rain barrel. In the steps, the trickiest part is making a good seal on the spigot. Use the rubber washer in combination with silicon sealant on both sides to form a really tight seal. Good luck!
Steps – To Make A Rain Barrel
There are several steps to learning how to make a rain barrel, but they are very simple. And once you have your rain barrel made you can use the collected rainwater to water your garden, flush your toilet, or even wash your dogs and cars. You will be very surprised at how much rain water you can collect in one barrel. The amount is unbelievable; you will have to give it a try to see for yourself.
The first step on how to make a rain barrel is to find the perfect barrel for the task. A perfect barrel can be any waterproof container that is of food quality and rust free, usually a plastic one is best. Since the water will be used to water your food supply and animals or wash your pets, you want to be sure that the barrel is free of any toxins or chemicals that could have an adverse effect on the recipient of the water. You would not want to get sick from your rain barrel. To be frugal in making your rain barrel, you might find a company in your area giving away barrels that they no longer need, or they might sell you one cheaply, so you can save money on making your rain barrel as well as conserving your water usage.
The next step that you will need to know to make a rain barrel is how to drill some holes. This could be the fun part, especially if you have never drilled holes before. You will drill one hole in the top for where the downspout will go, another one on the side of the container about one to two inches from the top, and a third hole will be drilled in the base of the barrel. The first hole will need to be big enough for the downspout elbow to fit along with a screen to fit over it. The second hole is for the overflow pipe. Just thread the pipe in the hole and hopefully it will seal itself, but if it does not then you will need to secure it with washers on the inside and outside of the barrel. Use a nut on the inside of the barrel. Then you will want to put Teflon tape on the threads, and use silicone caulk around the opening to make sure you get a tight seal. The third hole that was drilled near the bottom of the barrel is to attach a drain spigot. You will just need to repeat the procedure used for the overflow pipe for this spigot. Now wasn't that fun drilling all those holes?
It is better to fix your barrel on a base that will raise it up slightly off the ground. You could use something like concrete blocks or bricks to fix a place for the barrel to sit on. Just make sure the barrel is stable; you do not want a barrel full of rainwater falling over. It could be dangerous, and cause an accident. Somebody could get hurt. Now we have our pipes installed, and we have a base to sit our rain barrel on, what's the next thing to learn in how to make a rain barrel?
You will need to cut your downspout to a size so that the elbow, when attached, will sit about an inch above the barrel hole. The elbow will be attached over the downspout with a screw, and then the downspout will be attached to your house. You are now ready to place the barrel beneath the elbow, and you will probably want to attach the barrel to the house also to prevent the barrel from tipping over. Now that you have your rain barrel made, and properly attached; all you have to do now is wait for the next rain shower to come. After you have learned how to make a rain barrel, and the rain has come; you will have your free water to use for your garden or other things. Just attach a hose to the drain spigot and start using your free water.
Clean Water with a Rain Barrel
Learning how to make a rain barrel is a fun activity the whole family, and even the neighborhood, can become involved in. But, there are a few things to keep in mind when you choose to learn how to make a rain barrel for your home. One of the main things is to be sure the barrel is food safe, and that the water comes off of a metal or slate roof only. These are the only ones safe for using the water for drinking or watering food. Another thing to remember if you want clean water is to keep those gutters clean. Who wants to drink dirty water? Also, keep an eye out for leaks in your barrel, or you will lose that precious resource. These are just a few tips to make learning how to make a rain barrel profitable and safe to use. With the knowledge of how to make a rain barrel and the tips for safe drinking water, you are now ready to enjoy your rain barrel. And, you can start saving money, too.
Making a rain barrel has many benefits. Not only do we have the fun of learning how to make a rain barrel, but we get the nutrients from a natural form of water. What could be better than that? Rainwater is free of chemicals when we collect it in clean rain barrels. The gardens will grow better with fresh rainwater as well. When we use the collected rainwater in our barrels to flush toilets or wash our pets, we are saving money for water that we otherwise would have had to pay for. Rain barrels are beneficial to use, and they are economical as well.
Winterizing Rain Barrels
Some have reported that simply leaving the spigot open through the winter was enough to protect the rain barrel, but to protect yourself further, follow these steps.
Disconnect the rain barrel from the downspout
Drain the rain barrel and turn it upside down to prevent further water from collecting inside
Store mesh screens and hoses inside for the winter.
Rain Barrels – A Win Win
When you learn how to make a rain barrel (or rainwater tank), and choose to use it for watering your plants and animals, or to wash a vehicle, or even to flush those old toilets, you are choosing to be conservative with your money and water. And you are also choosing to live green and help save a natural resource. Water is an important resource that we use every day. By using rain barrels to collect rain water to use for our food and other needs, we are being eco-friendly. Frugal living in a bad economy can mean more money in our pockets. Why not make extra rain barrels and give them for gifts? You would be increasing the opportunity of saving the environment from losing out on a precious resource. The more people that use a rain barrel for their water supply, the better. Making rain barrels are great ways to save money and water in all homes.
---
Attractive & Popular Rain Barrels
---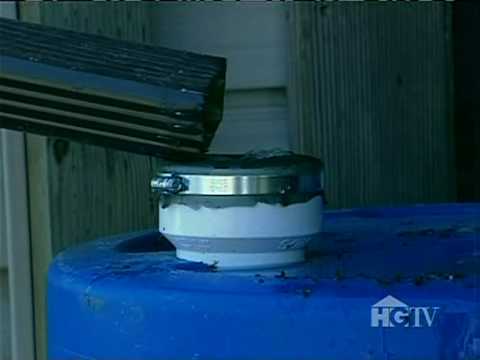 More Articles