How to Make Homemade Laundry Detergent
Have you heard the buzz about homemade laundry detergents? These concoctions clean clothing just as well as commercial detergents, but for only pennies per load. In addition, they are much better for the environment since they are created from natural products and contain no phosphates. If you have people in your family with sensitive skin, you no longer need to buy hypoallergenic detergents. You can create your own unscented, all-natural washing powder or liquid.
Making a batch of homemade laundry detergent does not take much time at all. In just a few minutes each week, you can create all of the detergent that your family will need.
Most homemade laundry detergents are created from three basic ingredients. These items are commonly found in the cleaning aisle of grocery stores. Usually, they are on a shelf near the bleaches, fabric softeners and laundry detergents.
Common Components of Homemade Laundry Detergent
Borax
Borax can be used for a multitude of household cleaning tasks. It is a disinfectant and whitener when dissolved in water. Although it can be irritating to the skin and eyes upon contact, if you are careful with it, borax is a safe, effective component to homemade laundry detergents.
Washing Soda
Washing soda acts as a water softener in homemade detergent, increasing the effectiveness of the soap. Washing soda also works as a solvent, dissolving tough stains in clothing just as well as bleach. However, the beauty of washing soda is that it does not remove the color from your clothing. You should always use caution when using washing soda, as it can be caustic.
Do not make the mistake of confusing washing soda with baking soda. Although Arm and Hammer manufactures both of them, washing soda is chemically different from baking soda. Washing soda comes in a yellow box.
Washing soda can be difficult to find in some areas. Walmart typically carries washing soda, but if you cannot find it there, Ace Hardware stores often carry it too.
Soap
Many people prefer to use Fels Naptha laundry soap to make their detergent. However, any type of soap will work. Many people use Ivory soap, but you can use any other bath soap that you may have on hand.
Making the Detergent
Plenty of recipes are on the web for making your own laundry detergent. Some people prefer a liquid detergent, while others like a powdered detergent. Either type will get your clothes clean in cold, warm or hot water.
Powdered Detergent
1 cup borax
1 cup washing soda
1 bar of soap
Grate the soap as finely as possible using a cheese grater or microplane zester/grater. Alternately, you can chop it finely in a food processor. In a large bowl, stir together the grated soap, washing soda and borax. Store this detergent in an airtight container. Use 2-3 tablespoons of this mixture per load of laundry, depending on how dirty the clothes are. You may need to play with the detergent to find the correct amount, since the hardness of your water can influence its effectiveness.
Liquid Detergent
3 cups water
1 grated bar of soap
1 cup washing soda
1 cup borax
5 gallon pail with a lid
2 gallons of very hot water, plus 3 more gallons of hot water
Heat the water in a pot on the stove. Stir in the soap flakes until they are dissolved. Fill your pail with 2 gallons of hot water. Add the soap and water mixture to the pail, along with the washing soda and borax. Stir until everything is dissolved. Add more hot water, filling the pail to the top. Put the lid on the bucket, and let it sit for 24 hours. It should form a gel. Use 1 cup of detergent per load of clothing. For ease of use, you can fill up old detergent bottles with this detergent.
Laundry detergent is quickly and easily made at home, and creating it yourself will save you plenty of money over the course of several months. You can buy the components for several batches for less than ten dollars. Unless you have an extremely large family, these ingredients should last you at least two months, maybe more. Homemade laundry detergent will work just as well in an HE washing machine as in a traditional machine.
How To Make Homemade Cleaning Wipes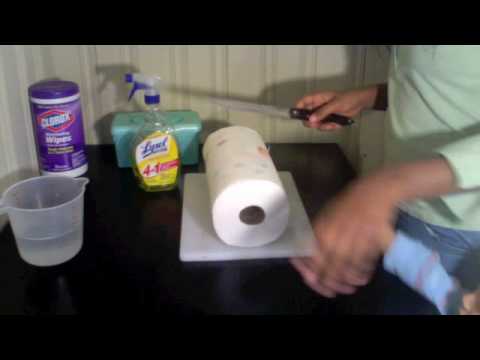 More Articles