I love tomatoes and a nice juicy baked stuffed tomato is a very satisfying meal. Here are a couple of varieties of stuffed tomatoes, choose your preference and enjoy!
Italian-Style Stuffed Tomatoes
4 large ripe tomatoes (heirloom or ruskin works best for me)
8 oz. Turkey sausage (I like the spicy Italian variety)
1 large garlic clove, minced
1 1/2 teaspoons crushed fennel seeds
2 tablespoons red wine vinegar
1 1/2 teaspoons sugar
2 tablespoons chopped fresh Italian parsley
2 tablespoons chopped fresh basil or 2 teaspoons dried leaf basil
1 cup cooked brown rice or white rice
4 tablespoons pine nuts
2 tablespoons grated Parmesan cheese
Salt
Pepper
Preheat oven to 375F.
Cut a thin slice from the top of each tomato and remove the cores. and pulp and just be careful to not puncture the sides.  Chop up the pulp and set aside. Then drain the tomatoes upside down on paper towels.
4. In a medium-sized pan, brown the sausage over medium high heat,  and break up the meat with your spoon or spatula. Add garlic and half of the leftover parts of the tomatoes]. Cook, stirring occasionally, until mixture is almost dry then add the spices.
Stir in the rice, nuts, and cheese and eason with salt and pepper to taste.
Grease a baking dish large enough to hold tomatoes. Stuff tomato shells with rice mixture then place in the greased dish.
Bake 20 to 30 minutes or until heated through.
Sprinkle with additional parmesan cheese. Serve hot or at room temperature.
Here is a great, simple and fast recipe, greek style, Opa!
Greek Style Stuffed Tomatoes
4 large tomatoes
1 1/2 cups cooked rice
1/4 cup chopped red onion
2/3 cup crumbled feta cheese
1/4 cup chopped fresh parsley
1/2 tablespoon salt
3 tbsp vegetable oil
Remove tops of tomatoes and scoop out insides; drain on paper towels. In a large bowl, combine rice, onion, cheese, parsley and salt. Place equal amounts of rice mixture into tomatoes, drizzle with oil and place in baking pan. Bake at 425 degrees for 20 minutes.
You could also add some already cooked shredded chicken and have a salad on the side for a complete lunch or dinner!
Indian Vegetarian Gourmet: Stuffed Tomatoes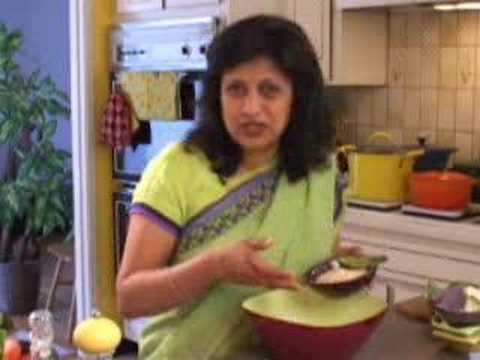 More Articles